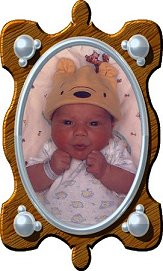 Hi. My name is Christopher Michael Penn, or just Christopher for short. No, my name is not Chris. This is where you can find out all about me and see photos of my wonderful self. I must be wonderful, because everybody waits on me hand and foot and if I so much as say the word (ok, scream the word) everyone comes running. My favorite activities are screaming, eating, screaming, sleeping, screaming, pooping, and sometimes screaming.
Although I prefer milk, I'll suck on anything that gets within 3 feet of my face. Fingers, blankets, pacifiers, noses, an unsuspecting cat... they all work. And my parents seem to think I'm a bird. Because they found out that if they put a diaper over my head I shut up. I'm also fond of projectile vomiting, and can do it as far as 8 inches horizontally. But my favorite thing is to be wrapped up in a blanket like a burrito. I guess that's why mommy and daddy call me "burrito baby".
I'll use the space below to let you know what's been added to these pages so you can tell when there's something new to look at or read. But since I'm so cute, I'm sure you'll keep coming back here to look at me whether there's anything new or not.
- April, 2000
September 29, 2003
Believe it or not, another set added to the photo album . Happy birthday Donna!
May 30, 2002
Two new pages added to the photo album .
February 28, 2002
Christopher has his first experience seeing himself on camera. He was quite pleased with himself.
November 8, 2000
Christopher publishes his first poem.
November 5, 2000
Finally added another page to the photo album and an updated journal entry.
July 9 , 2000
Two more pages in the photo album , updated journal entries.
May 11, 2000
Added another page to the photo album.
May 7, 2000
Got the first page of the photo album up. The second page should follow shortly.
May 1, 2000
Finally got these pages up. The diary is started. Photos will be coming on line soon.