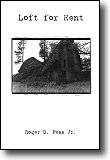 Loft for Rent
by Roger B. Penn, Jr.
1999, 32 pages.
Loft for Rent is my first chapbook of poetry and photography. Limited to an edition of 25 copies it is long since out of print, though still in demand. It may be available in PDF format in the future.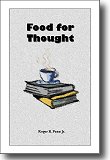 Food for Thought
by Roger B. Penn, Jr.
2002, 24 pages.
A more traditional chapbook (though with a color cover), it only includes poetry this time. Sorry, no photography. It is available for purchase for US$4. See the ordering page for more details.